Entrepreneurship is the buzzword of the day, and the development of technology brings tons of new possibilities every day. People are starting to learn the importance of these possibilities. For every unique opportunity that pops up, many new business ideas also come into existence. The people who are smart enough to figure these are the ones that end up ruling the market. Sandeep Aggarwal Droom and ShopClues Founder, explains the essence of running a bootstrap startup.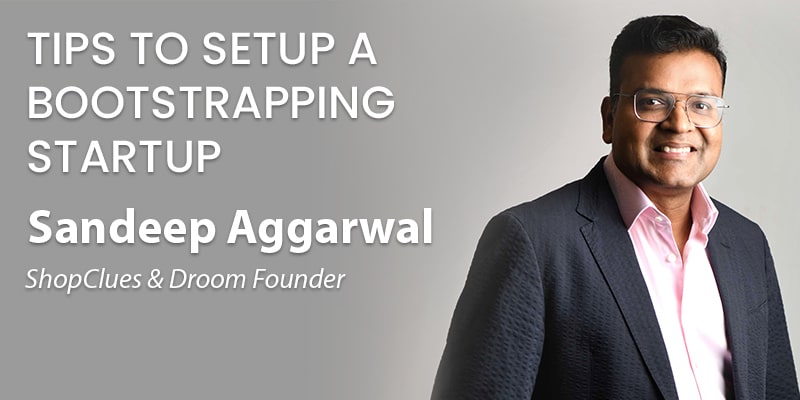 What is a Bootstrap Startup?
It is a term given to the small startups that start entirely with personal savings and sale returns, with no capital investment from the other individuals or companies. Scary? Well, yes. But not impossible to run.
A lot of bootstrap entrepreneurs managed to make it big in the market, owing to their sheer sense of profit-making, hard work, and to some extent, good luck.
Having gone through India's automobile commerce with Droom, Sandeep Aggarwal, a serial entrepreneur, has a bunch of suggestions for the regular bootstrap entrepreneur.
Get the best out of a Bootstrap Startup
Automobile market insights in India show Droom to be one of the most potential recent businesses of the hour. Here are some tips from the founder himself:
Many budding entrepreneurs like to dream about their ventures reaching the skies. Their headquarters in the heart of New York? The latest technologies equipped building? They just want them all!
However, for a bootstrap entrepreneur, it is essential to make a note of his essentials. The first step to managing the finances is to realize your budget, your bare necessities and then adjust them accordingly. Your "essentials" list is your savior, so stick to it!
Apart from taking losses, do everything you can to make your place in the market. Every client you get would count, and every move you make would make a difference. It wouldn't be wise to lose an opportunity because you couldn't keep your head straight, would it?
Hence Sandeep Aggarwal with Droom and ShopClues and tons of experience in India's automotive commerce suggest keeping your ego aside, at least during the initial years of your startup.
Remember what gave your startup wings in the first place? Your savings. And that is going to take you further. Do not start indulging in splurging your profits as soon as you start making profits! Your Bootstrapped money should always increase because those are the wings of your startup.
Cause who doesn't like them anyway? Freebies are the best friends that a bootstrap entrepreneur can have! From a free lunch at a friend's place to spare garages, and even free media marketing, get them all! All of them help some way or the other without having to spend money. Win-win!
With limited financial exposure, bootstrap entrepreneurs do not have the liberty of diving head-first into an idea. They must make intensive research of the market and lay down a full-fledged roadmap to execute their vision.
Sandeep Aggarwal ShopClues founder made it very clear that part of making the plan is analyzing the data available. Data of the market, of the target audience, and everything in between. Thorough data analysis would make all the difference for a bootstrap startup!
Bootstrap startups can sure make it big with a little bit of patience and perseverance. Make every penny count!