If you happen to have entrepreneur ideas disrupting your peace of mind in all the good ways, you are probably already familiar with the anxiety it can bring along. Becoming an entrepreneur and starting your business is as tricky as it is dreamy. No wonder there are so many ideas but so little execution.
Be it Sandeep Aggarwal, any entrepreneur's journey from getting an idea to taking it all the way till the end is one filled with hurdles. Societal pressure, ever-changing global scenarios, constantly sprouting new ideas, and to top it all: the funds that are just never enough. Building your business from scratch is a process not many people dare to undertake. Even fewer are those who can make it to the top.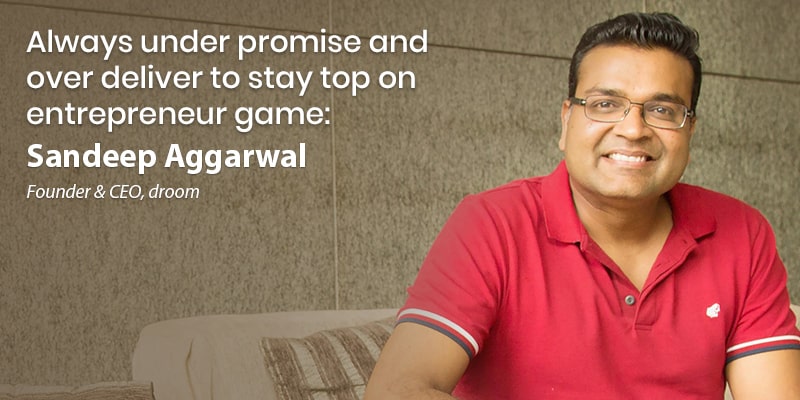 Sandeep Aggarwal Lesson
Why do most startups dissolve into oblivion? What does it take to become a successful entrepreneur? What are some entrepreneur lessons that every budding startup owner must know? To answer them all, here's a valuable message on entrepreneurship by none other than Sandeep Aggarwal, founder of Droom and ShopClues.
For all the brains out there, who have ever dared to think outside the box, Sandeep Aggarwal's Droom and ShopClues sets an example. It is the vision of a person that essentially has the potential to walk him through the initial dark days.
How to deal with negative responses?
A compelling entrepreneurial idea is much ahead of its time in most cases and is generally rejected by the common masses. How do you deal with that? Well, it definitely becomes challenging to keep believing in your idea despite the negative response. However, Sandeep Aggarwal says, strong willpower and perseverance are two character traits that are very essential for anyone thinking of starting his business. The ability to not get influenced is rare and should be cultivated in due time. Stepping out of your comfort zone is the key to reaching new heights.
How to proceed with the idea?
What after you have your billion-dollar idea? Having an idea alone is not sufficient if you cannot take it to proper execution. And what ensures adequate implementation? A detailed market analysis. Knowing your target audience and their expectations is an essential part of setting up any business. Sandeep Aggarwal specifies know what you want, what they want, and then spend all your time and energy fulfilling the needs of both.
How to gain profit?
Another lesson from Sandeep Aggarwal entrepreneur is of fund management and proper marketing strategy. While it is pretty impossible to predict future market conditions, you must be prepared for adversities, at least to some extent. To gain maximum profit out of your startup, you must have an action plan laid out before you for as many possibilities as you can think of. Preparedness can make any person a long way up the ladder. It is the shield that will save you from your biggest market nightmares.
All in all, the perfect entrepreneur is a delicious cocktail of a ton of diverse qualities. Hard work, strategy, persistence, and dedication are just some of the components. But the critical ingredient remains a soul that never gives up, no matter how many adversities are thrown at it. Take one challenge at a time, and you shall win it all!